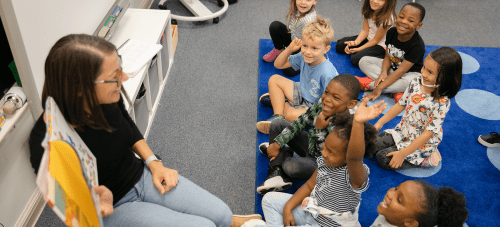 Curriculum & Instruction - Reading Education: M.Ed. - Master of Education
Curriculum & Instruction - Reading Education: M.Ed. - Master of Education
Designed for reading practitioners to strengthen their knowledge, instructional skills and abilities for effective teaching of reading.
At a Glance
Program Results
M.Ed. - Master of Education
Curriculum & Instruction—Reading Education
Program Type
Location
Estimated Length
2-4 years
Application Deadline
Spring entry: December 1
Summer entry:
February 1 (priority deadline)
May 1 (final deadline)
Fall entry:
March 1 (priority deadline)
July 1 (final deadline)
Credits
30
About This Program
The program is designed to develop knowledge about science-based reading instruction and effective and efficient reading assessment and instruction at both the elementary and secondary levels.
The program also develops students as literacy leaders in their schools and districts and prepares individuals for literacy work in community colleges, industry, adult education programs, commercial education centers, and private practice.
In the reading education program students will:
Understand science-based reading instruction and the cognitive underpinnings of reading development
Learn how to implement evidence-based reading assessment and instruction
Understand the broad range of reading profiles for students in school settings and how to address heterogeneous learning needs
Understand how to use data to drive instructional decision making
Develop the ability to integrate reading research and theory into practice
Learn to lead a school site in the implementation of evidence-based core literacy instruction, as well as supplemental instruction for students who have difficulties learning how to read
Reading Specialist Endorsement
Though it is not a graduation requirement for the M.Ed. in Curriculum Instruction–Reading Education program, many students wish to add the Commonwealth of Virginia's K12 reading specialist endorsement to their existing teaching license. View process on Reading Specialist Endorsement, below.